Spiral Wound Gasket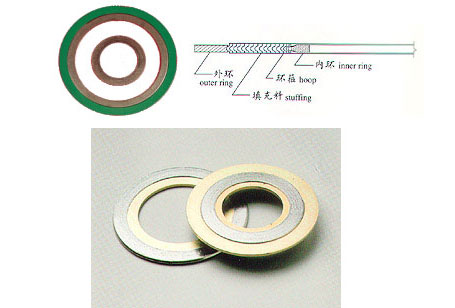 SW-SWG-0001
   Spiral Wound Gasket is the ideal gasket in the semi-metallic category. A narrow strip of V-shap metal hoop is spirally wound under tension with a filler cushion between the lami nation of the metal and is spot-welded at both ends。
 The Spiral Wound Gasket uses expanded graphite tape as the filler material which provides superb sealability even under severe conditions such us high temperature, high pressure, cryogenic temperatures, heat cycles, temperature cycles and so on. Feature
   1. Sealing, especially gas sealing, is superior to that of asbestos gaskets.
   2. Little deterioration of the filler material at high temperatures, outstanding long-term sealability even under high temperatures and high pressures.
   3. Sealing remains outstanding even under servere conditions such as pressure fluctuations and heat cycles.
   4. Excellent sealability is maintained making it possible to apply this for corrosive fluids by selecting the appropriate materials.
  5. Outstanding sealing even at cryogenic temperatures.
Service Range:

| | | |
| --- | --- | --- |
| fluid | Maximum service temperature °C | Maximum service pressure |
| Water type fluids | 450(650) | Class 2500 |
| Oil type fluids | 450(800) | Class 1500 |
| Gas type fluids | 450(800) | Class 1500 |
| Cryogenic temperature fluid | -240 | 20 Mpa |

Spiral Wound Gasket

Types:
(1) There are four types: Basic type gasket for motched joint flange; gasket with
inner ring for raised face flange;gasket with outer ring for smoothing flat welded flange
and ;gasket with inner and outer rings for smoothing butt welded gasket.
(2) The material:
(A) steel ribbon:304,1Cr18Ni9T(321),316 and 316L,etc.
(B) Ring:mild steel,oCr13,oCr18Ni9,304,316 and 316L,etc.
(C) Non-metal ribbon:flexible graphite,special-purpose asbestos,Teflon and non-asbestos sheet.